About Us
We've been serving the Western Massachusetts area for 10 years with quality and service that goes beyond anyone else.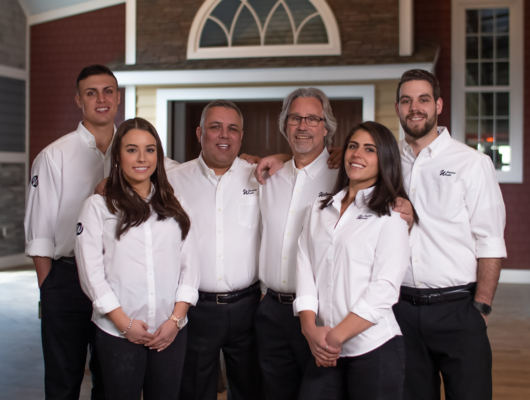 Our Story
Window World of Western Massachusetts
We are a local, family-owned, exterior remodeling business operating with two generations of families – fathers, sons and daughters!
Tim Drost and Bob Bushey are no strangers to the home improvement industry, growing-up in the field and having over 50 years of experience. Tim and Bob started working together at a national home improvement installation company and realized the benefits it provided, but still knew there had to be a better way to deliver a personal touch and an exceptional customer experience. How do you take the protection of a national brand and still offer the quality craftsmanship of a local family-owned company? That's why Window World was the perfect solution – locally owned and operated; and backed by a national presence.
Window World of Western Mass was proudly established in March 2010. Tim and Bob, and now their children, James, Lanéa, Nick and Grace, are all hands-on and growing-up in the business like their fathers. You can find them working hard to ensure your experience is like no other – from meeting with you personally right from the beginning, on the job-site installing products at your home, servicing your needs after the installation, talking with you on the phone or on your television – they're all in! You may even see Ruth Bushy or Anna Drost in the showroom. It's a complete family business!
Along with family, what else sets us apart? It's our installation team! All our craftsmen are employees – no subcontractors here. Why is that important? No matter how good a product, it's the quality of the installation that makes the difference. We truly care – that's why we heavily invest in the continued training and education of our team. You can rest assured that everyone who comes to your home is highly skilled, knowledgeable and certified on the products they are installing. Our job doesn't end at the sale, it's just the beginning. Doing the job right is our top priority. We're not rushing off to the next job, and our craftsmen aren't working for multiple companies – they're part of our Window World family.
We start and end our days together talking about you, because we're committed to making your remodeling dreams come true.
Meet the Team
Meet the Window World of Western Massachusetts Family!
Tim Drost
Owner & Home Improvement Specialist
About Tim
Tim has been in the home improvement industry for over 30 years. He is incredibly knowledgeable on everything regarding home remodeling. Tim is an installation expert, and our #1 design consultant.
Bob Bushey
Founding Partner
About Bob
Bob has been in the home improvement industry for many years, and is the original founder of Window World of Western MA.
Lanea Bushey
Partial Owner, Marketing Director & Project Manager
About Lanea
Lanea has been surrounded by the home improvement industry from a young age. She is the Marketing Director at Window World Western MA & is our vinyl siding specialist.
James Bushey
Partial Owner & Measure Technician
About James
James has been involved in the home improvement industry his whole life. James is our measure technician, and service technician at Window World Western MA.
Nick Drost
Partial Owner & Installation Specialist
About Nick
Nick has been surrounded by home improvement & construction his whole life. He is working in the field as one of our installation experts, specializing in windows & doors.
Grace Drost
Partial Owner & Office Administrative Assistant
About Grace
Grace has been surrounded by home improvemnt her whole life. She is working in our office here at Window World Western MA.
The History of Window World
A peak inside the world of Window World.
Window World® is America's largest replacement window and exterior remodeling company, offering quality windows, doors, siding, shutters and more, with over 200 locations nationwide. Despite the ever-changing landscape of the home improvement industry, our promise has remained constant since our start in 1995, "Superior Products, Professionally Installed, at a Guaranteed Low Price."
Window World has sold over 17,000,000 windows to date, including 1,000,000 windows annually since 2009. In addition to being awarded the ENERGY STAR®, our windows, siding, and doors have earned the Good Housekeeping Seal, an accreditation reserved only for products rigorously tested by the Good Housekeeping Research Institute and verified as trustworthy. As we celebrate over 25 years in the industry, Window World is proud to offer a comprehensive suite of products for a true exterior transformation.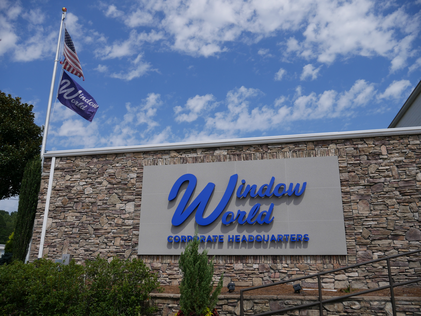 Window World Headquarters
North Wilkesboro, NC
Additionally, through our charitable foundation, Window World Cares®, the Window World Family provides funding for St. Jude Children's Research Hospital®. Since its inception in 2008, Window World Cares has raised over $10.75 million for St. Jude. Window World, Inc. also supports the Veterans Airlift Command, a nonprofit organization that facilitates free air transportation to wounded veterans and their families. To date, Window World has sponsored over 115 missions throughout the U.S., surpassing more than $2.5 million in donations and in-kind contributions.
Window World Gives Back
At Window World, we take service seriously.
For us, service extends beyond the customer — it's about serving the entire community. We believe in putting our money where our heart is, raising financial support for organizations that inspire us to be better people.
Window World Cares
Window World Cares® is a foundation devoted to raising money for St. Jude Children's Research Hospital®. Since its inception in 2008, Window World Cares has raised over $10.75 million for the hospital, and we show no signs of slowing down.

We're known for our service — but don't just take our word for it.
We take great pride in delivering top-quality products and unbeatable service. We are respected by customers and experts alike, which is what has helped us become America's largest exterior remodeler. But don't just take our word for it — take theirs.
Blog
Get design tips, product info, and expert guidance for all things "home."